The finest quality pure hemp bed linen, meticulously crafted to order in South Australia.
We scoured the globe and found the best fabric to sleep on. How do we know? With universal 5 star reviews, we've been making sheets for happy customers and slumbering on it ourselves for a decade and counting...
At Good Studios, we believe good things take time.
That's why we take pride in our made-to-order model, ensuring that each set of our bedding is crafted using zero waste practices with the utmost care and attention to detail.
CURATE YOUR SANCTUARY
Backed by a 3-Year Guarantee.
Our exacting standards mean quality construction you can rely on. From the French seams to our 3-year guarantee, we stand behind our craftsmanship so you can confidently invest in better rest.
MEET OUR FAMILY
Good Studios was founded in 2012 by Art Director Bing Rowland to champion hemp textiles. Bing then teamed up with her mother Kate to grow Good Studios' current made-to-order bedding and homewares collection.
As a family orientated business now with two young bairns in tow, we are constantly on the search for the beautiful balance; to be present with loved ones and create a business with values they would be proud to inherit.
Dream easy knowing every single piece of our hemp collection is made to order by Kate (AKA Mum) in her home studio in Port Willunga, SA. Zero Waste and a whole lotta love from our family to you and yours. xo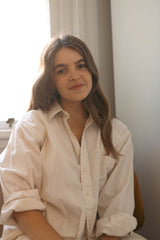 FAQ
Answers to most common questions about products, orders, shipments, and payments.
PRODUCT QUESTIONS
What items are in your bedding sets?
Our bedding sets contain
2 x pillowcases ( 1 x for single and king single)
1 x fitted sheet
1 x quilt cover
Top sheets are sold separately
Is the hemp organic?
Hemp doesn't require sprays to grow as it's naturally built to withstand weeds and bugs. Our suppliers buy small batches from farmers who cannot afford organic certification so we will never say its organic, but it's just not standard practice to use herbicides and pesticides on the hemp plant due to its inherent antibacterial and anti-fungal properties. Learn more HERE
What dyes do you use?
Our dyeing process carries OEKO-TEX® Standard 100 certification, meaning the fabric has been tested for harmful substances and found to be completely harmless for human health.
During the fabric dyeing processes, the following dye stuffs are used: 
 1) Pretreatment—sodium hydroxide, hydrogen peroxide
 2) Boil and steaming- scouring agent, caustic soda 
 3) Bleaching- hydrogen peroxide, sodium hypochlorite
 5) Heat Setting - soften additives and color-fixing agent
 6) Enzyme Washing- cellulase
When we receive the fabric in Australia, it has sizing in it which allows for a much easier sewing process. Once we finish manufacturing we wash the fabric using a sensitive detergent and a hint of lavender oil which removes all sizing and softens the fibre. We then dry and press your bedding so it is ready to put on your bed as soon as you receive it - no re-washing required!
What are your construction techniques?
Locally and lovingly handmade in South Australia from pure (100%) hemp linen using zero waste practices. French seams throughout with the highest standard of construction (see comparison below to other linen brands)
Can I feel the fabric before I order?
There's noting worse than investing in new bedding only to find it scratchy and not the right colour at all! We're very confident you won't find our bedding scratchy but we've taken the guesswork out of it by offering swatches, simply order the colours you're curious about and we'll send them your way and send you a voucher for the same amount to use on a future bedding purchase. :)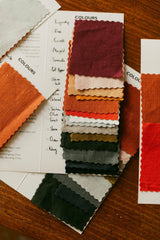 TERMS
What is your guarantee & returns policy?
GOT MORE QUESTIONS?
If you have any questions or need further assistance, please don't hesitate to reach out below. We're always here to help!
ACKNOWLEDGEMENT OF COUNTRY.
Good Studios operates on the lands of the Kaurna People who are the traditional custodians of the Adelaide Plains, and the lands of the Gayamagal People. On this land, and wherever we are in this country, we acknowledge Aboriginal and Torres Strait Islander peoples as first inhabitants and the traditional custodians of the lands where we live, learn and work. We pay our respects to elders past, present and emerging.
Sovereignty was never ceded.